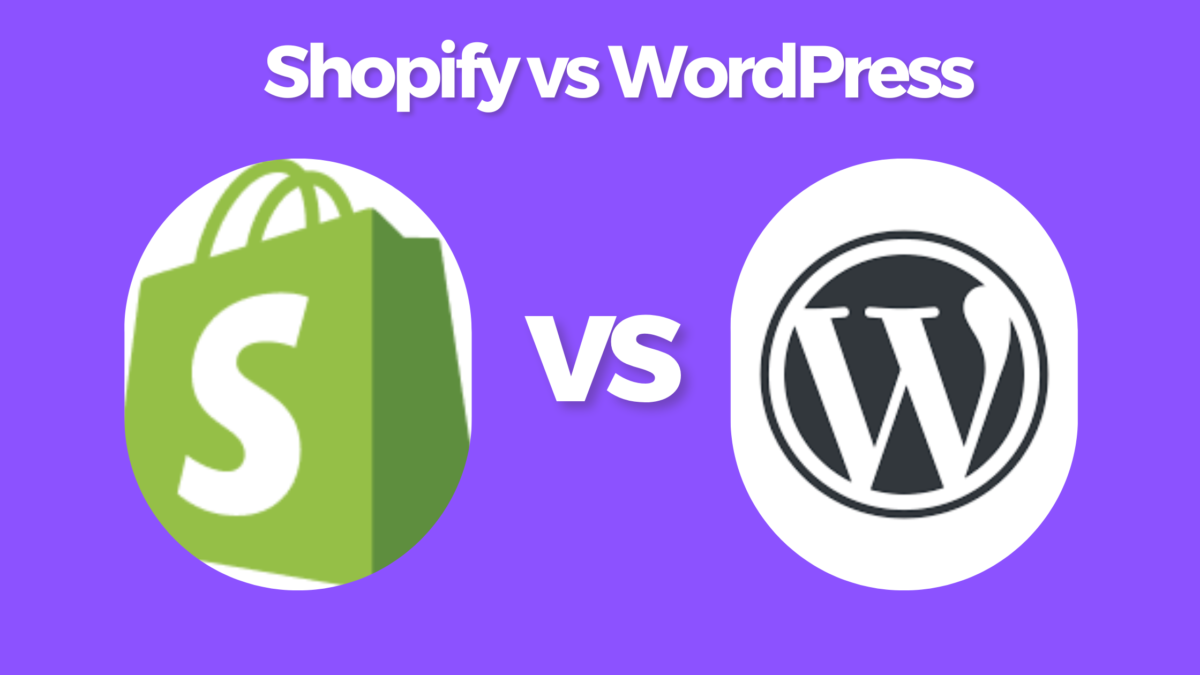 Shopify vs WordPress: Which E-commerce Platform is Right for You? (2023)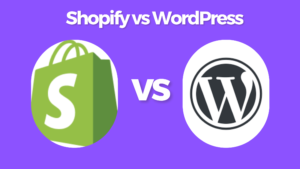 SEO Meta Description: Are you torn between Shopify and WordPress for your online store? This comprehensive article explores the key differences, benefits, and drawbacks of both platforms to help you make an informed decision. Discover which e-commerce platform suits your business needs best.
Shopify vs WordPress: Introduction
In the ever-expanding digital world, setting up an online store is crucial for any business aiming for success. However, choosing the right e-commerce platform can be overwhelming, with Shopify and WordPress being two popular contenders. Each platform comes with its unique features, advantages, and limitations, making the decision challenging. In this article, we will delve into a detailed comparison of Shopify vs. WordPress to help you select the one that aligns perfectly with your business requirements.
Shopify vs WordPress : The All-in-One E-commerce Solution
Shopify has gained immense popularity over the years as a leading e-commerce platform and for a good reason. It offers a user-friendly, all-in-one solution for entrepreneurs and businesses, eliminating the need for extensive technical knowledge.
Key Features of Shopify
Easy Setup and User Interface: Shopify boasts an intuitive interface, enabling even beginners to create a professional-looking online store without any hassle.
Extensive App Store: With an extensive library of apps and plugins, Shopify allows you to add various functionalities and features to enhance your store's performance.
Secure and Reliable: Shopify provides reliable hosting, security, and regular updates, ensuring your store runs smoothly and securely.
Payment Gateways: Shopify supports multiple payment gateways, enabling smooth transactions for customers across the globe.
Mobile Responsiveness: All Shopify themes are mobile-friendly, ensuring your store looks great on various devices.
24/7 Customer Support: Shopify offers excellent customer support to address any issues or queries promptly.
The Pros of Using Shopify
Shopify is a fully hosted platform, takes care of technical aspects, including hosting and security, so you can focus on your business.
The platform is designed for scalability, accommodating your business growth seamlessly.
It comes with a range of beautifully designed themes to customize your store's appearance.
Shopify offers built-in SEO features to help improve your store's visibility in search engines.
The Cons of Using Shopify
Customization options can be limited compared to a self-hosted platform like WordPress.
Transaction fees may apply if you don't use Shopify Payments.
Advanced features may require additional costs through third-party apps.
WordPress: The Versatile Content Management System (CMS)
WordPress is renowned for its flexibility as a content management system, but it has also become a popular choice for e-commerce through the integration of plugins like WooCommerce.
Shopify vs WordPress: Key Features of WordPress
Flexibility and Customization: WordPress provides unparalleled flexibility and customization options, allowing you to create a unique and tailored online store.
Huge Plugin Ecosystem: With a vast library of plugins, including WooCommerce, WordPress enables you to add specific e-commerce functionalities to your site.
SEO-Friendly: WordPress is inherently SEO-friendly, offering various tools and plugins to optimize your store for better search engine rankings.
Ownership and Control: As a self-hosted platform, WordPress gives you complete ownership and control over your e-commerce website.
Limitless Design Options: With thousands of themes and templates, you can design your store exactly as you envision it.
Cost-Effective: WordPress itself is free, which can be beneficial for businesses on a budget.
The Pros of Using WordPress
The platform's versatility allows you to create not only an e-commerce site but also a full-fledged website or blog.
With complete control over your site, you can implement any customization or modification you desire.
WordPress offers an extensive collection of free and premium themes to suit your branding.
The Cons of Using WordPress
Setting up an online store on WordPress requires more technical expertise than using Shopify.
Managing hosting, security, and updates can be time-consuming and may require additional costs.
While there are many plugins available, compatibility issues and updates may cause occasional conflicts.
Shopify vs. WordPress: Which One to Choose?
Now that we've explored the key features and benefits of both platforms, it's time to answer the ultimate question: Shopify vs. WordPress – which one should you choose for your e-commerce venture?
If you're an entrepreneur or a small business owner looking for a straightforward, user-friendly solution without the hassle of technicalities, Shopify might be the ideal choice for you. Its ease of use, dedicated customer support, and ready-to-use features make it an attractive option.
On the other hand, if you're a tech-savvy business owner or a developer who seeks complete control and flexibility over the design and functionality of your online store, WordPress might be the better fit. Its vast plugin ecosystem and customization options empower you to build a store that perfectly aligns with your vision.
It's important to assess your specific needs, technical expertise, budget, and long-term goals before making the final decision.
Shopify vs WordPress : Frequently Asked Questions (FAQs)
Is Shopify better than WordPress for beginners?
Shopify is generally considered more beginner-friendly due to its user-friendly interface and managed hosting, which removes technical complexities.
Can I switch from Shopify to WordPress later if needed?
Yes, you can switch from Shopify to WordPress if your business needs evolve. However, the migration process may require technical expertise and careful planning.
Does WordPress offer the same level of e-commerce functionality as Shopify?
WordPress can achieve similar e-commerce functionality through plugins like WooCommerce. However, it may require more setup and configuration compared to Shopify.
Which platform offers better SEO options?
Both platforms offer solid SEO options, but WordPress's extensive plugin support gives it an advantage in implementing advanced SEO strategies.
Is Shopify suitable for large-scale businesses?
Yes, Shopify can cater to large-scale businesses with its scalability and dedicated enterprise plans.
Can I integrate third-party payment gateways on WordPress?
Yes, WordPress allows integration with various third-party payment gateways, providing flexibility for your customers' preferred payment methods.
Shopify vs WordPress : Conclusion
In the fast-paced digital world, selecting the right e-commerce platform can significantly impact your online business's success. Shopify and WordPress stand as two compelling options, each with its strengths and advantages.
Shopify's user-friendly interface, reliable hosting, and comprehensive customer support make it a go-to choice for beginners and small businesses seeking a hassle-free solution. On the other hand, WordPress's flexibility, customization options, and robust plugin ecosystem make it a favorite for experienced entrepreneurs looking to create a unique and tailored online store.
Ultimately, the decision between Shopify and WordPress boils down to your specific needs and preferences. Consider your technical expertise, budget, design requirements, and long-term goals to make an informed choice that empowers your e-commerce journey.
So, are you ready to launch your online store and make your mark in the digital realm? Whichever platform you choose, embark on this exciting journey with confidence and enthusiasm!